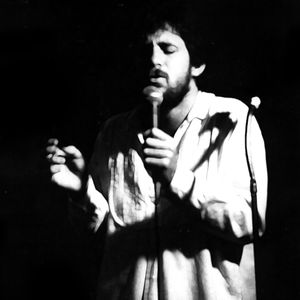 WELCOME TO THE GREG BOND MEMORIAL WEBSITE
A prolific writer and composer for 20 years, Greg died at the age
of 35 on April 10, 1989, following a brief illness with brain cancer.
He was loved by many — family, friends and fans alike — and is 
fondly remembered by those who worked with him as a highly 
dedicated professional with a wonderfully positive attitude.
Greg performed in the Canadian musical theatre scene for 10
years, most notably as Rum Tum Tugger in CATS during its
initial Toronto run. But his first love was song-writing, and his
legacy ranges from the folk songs of his teenage years, like
"Funny Day Saturday," to his later songs — including
"Fixing Up This World" and "Spellbound" — written for his one-man
show "Heroes," which he performed two months before his death.
One of Greg's passions and concerns was the environment, and
"Fixing Up This World" reflects his sense of urgency. We felt that
this song, especially, needed to be heard, so we have produced a
CD of his music which we would love to share with you.
We are still in the process of setting up the photo gallery, so if you
have a photo of Greg that you'd like us to include on the site,
please send it to Ruth Bond. (She's listed in the contact section.)
Thanks for visiting...and for keeping Greg alive in your hearts!
We hope you enjoy his music as much as we do.
— Ruth Bond and Beverly Bond Mason