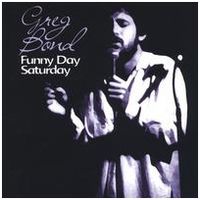 Greg was loved by many fans and members of the musical theatre community, and is fondly remembered by those who worked with him as a highly dedicated professional with a wonderfully positive attitude towards the theatre and towards life.
One of his passions and concerns was the environment. His song "Fixing Up This World" reflects the urgency he felt in taking responsibility towards saving the environment. To this end we feel that this song needs to be heard.
Greg's family has produced a CD of his music which reflects his 20 years' of development and growth as a lyricist and composer. His music output ranges from the folk songs of his teenage years, like the title song "Funny Day Saturday," to the later songs written for his one-man show HEROES (performed two months before his death), which includes "Fixing Up This World" and "Spellbound." He has left us with a wonderful legacy of music which we would love to share with you. We hope you enjoy his music, as do we.
— Ruth and Ken Bond